Skip to products grid selection
Accessibility statement
Highline Airlift Vest
AIRLIFT JACKET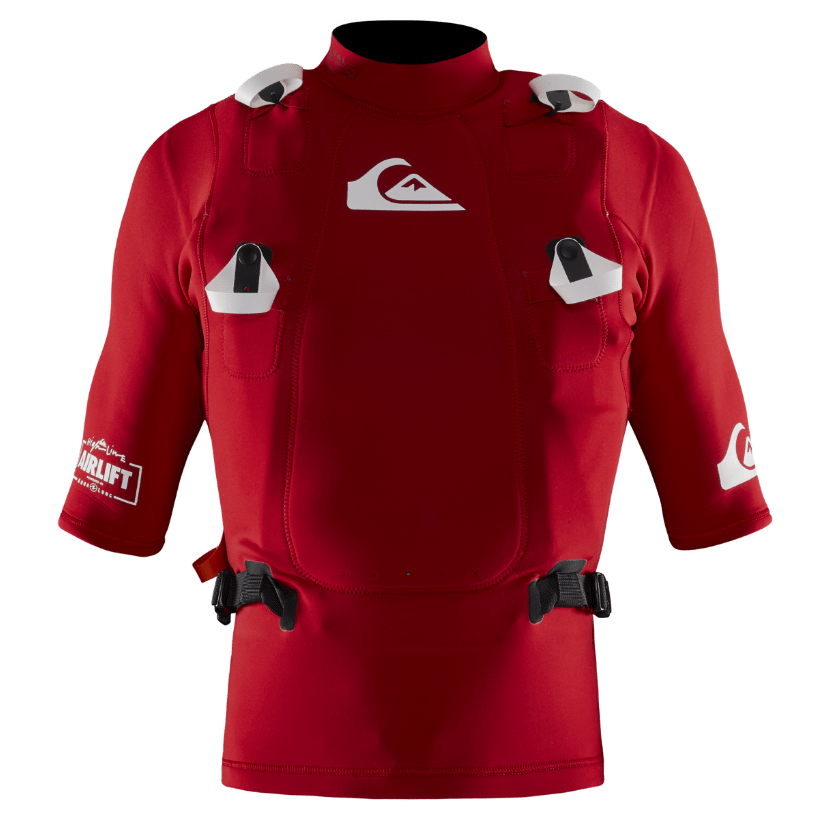 AIRLIFT JACKET
FIRST, A NOTE ON SAFETY
The Quiksilver Highline Pro Airlift vest is designed for use by experienced adult surfers. Using it successfully requires strong swimming skills, ocean knowledge, collaboration with other surfers and lifeguards, and like the rest of your equipment — it must be cared for and used correctly. Proper use of the vest requires adherence to manufacturer's instructions.

The Airlift vest is a safety tool, not a performance enhancer. Do not take greater risks while using this vest.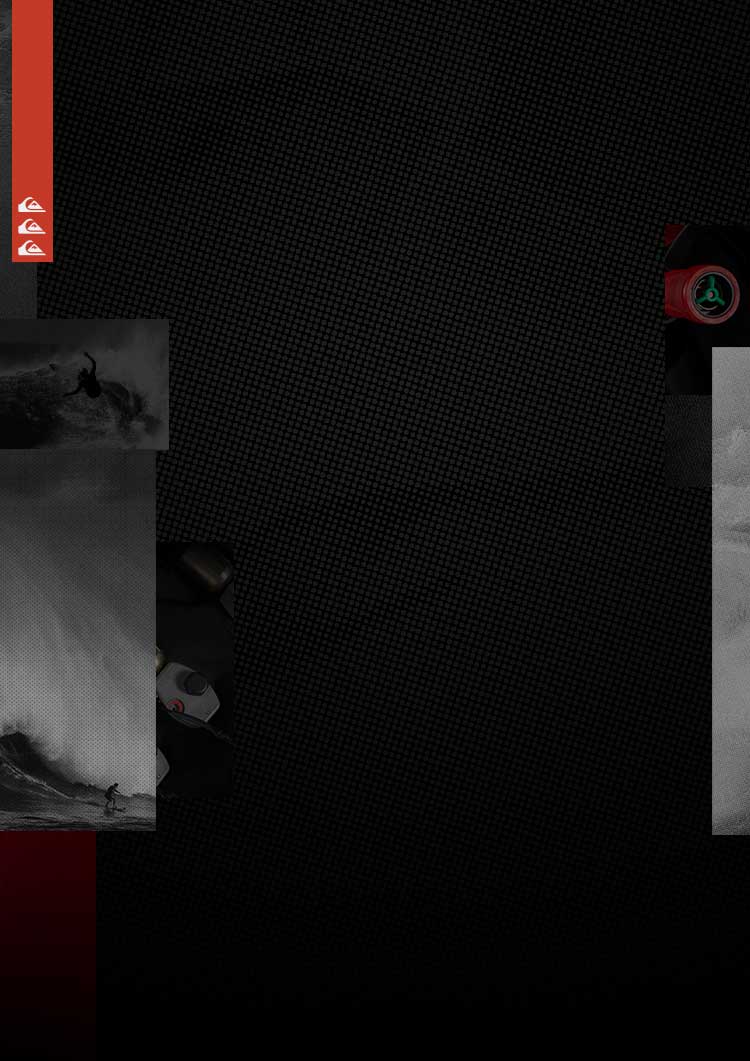 HIGHLINE PRO AIRLIFT VEST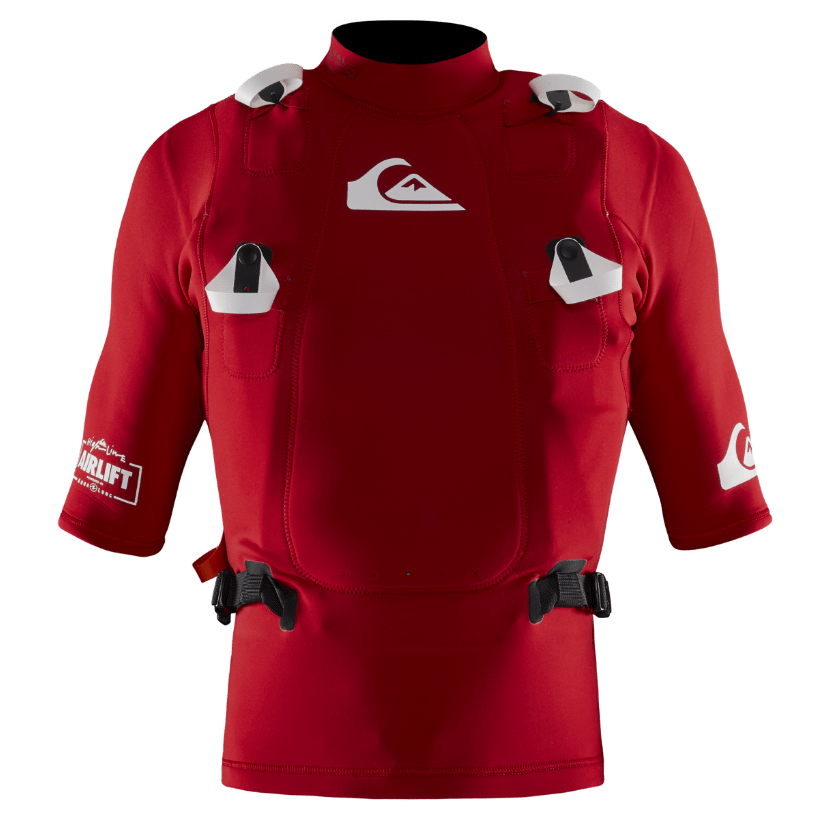 The Highline Pro Airlift is a neoprene safety vest that utilizes carbon-dioxide cartridges to help bring the wearer to the surface in big wave hold-down situations. Since its release in 2017, it has become a staple at the world's heaviest waves. The Airlift is there, adding an extra element of safety and pushing the level of performance in surfing's most volatile environments.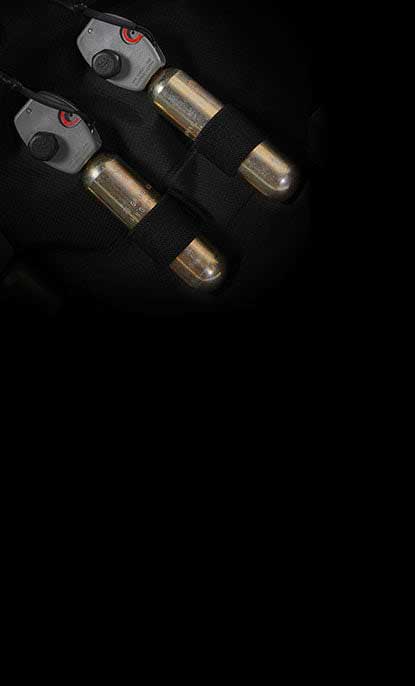 CONVENIENT WHEN IT COUNTS
The Airlift features four conveniently located inflation tabs which are connected to CO2 canisters.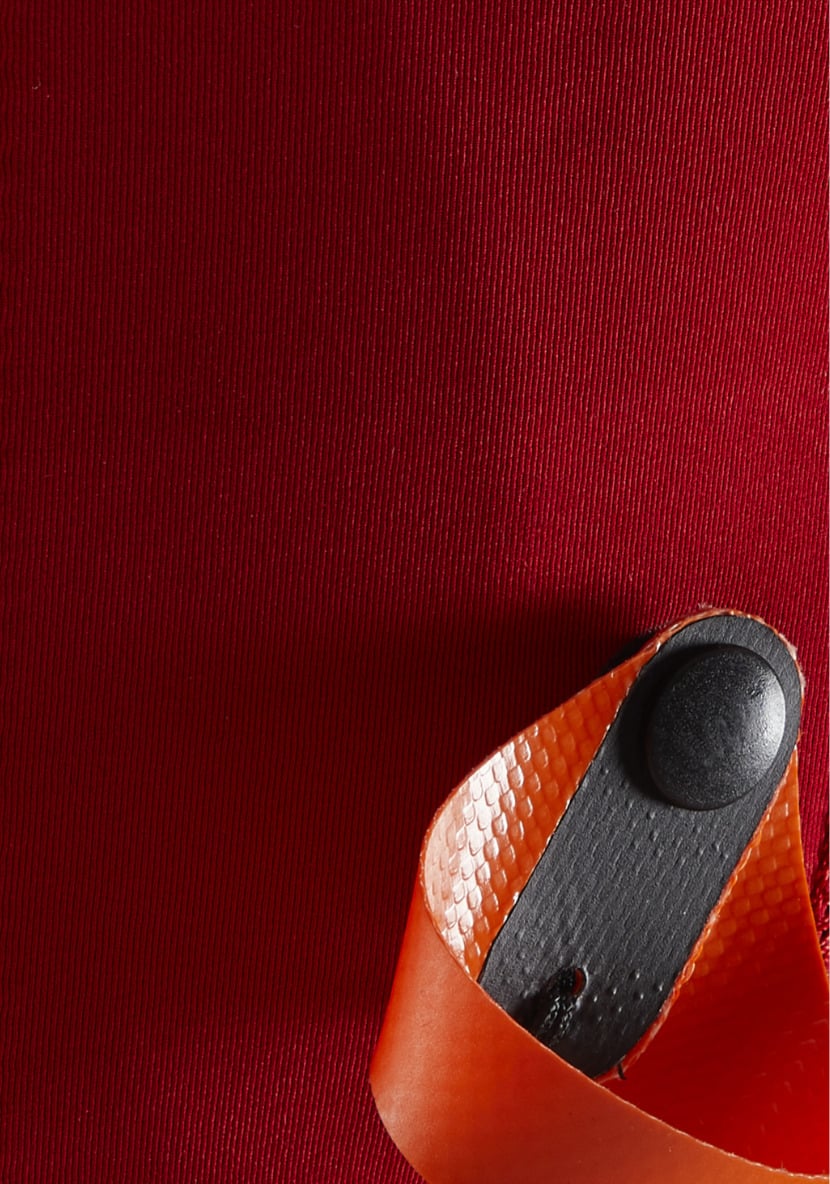 EASY DEFLATION
The Airlift is designed with an easily accessible deflation tab so that you can ditch your buoyancy whenever you need to.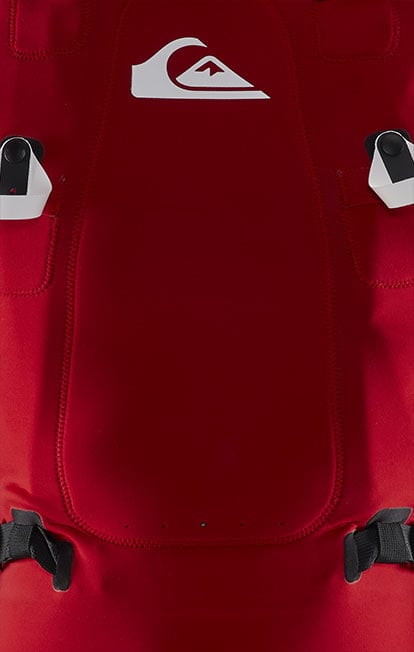 INTELLIGENT DESIGN
The air bladders are strategically placed to keep the wearer's head above water when inflated.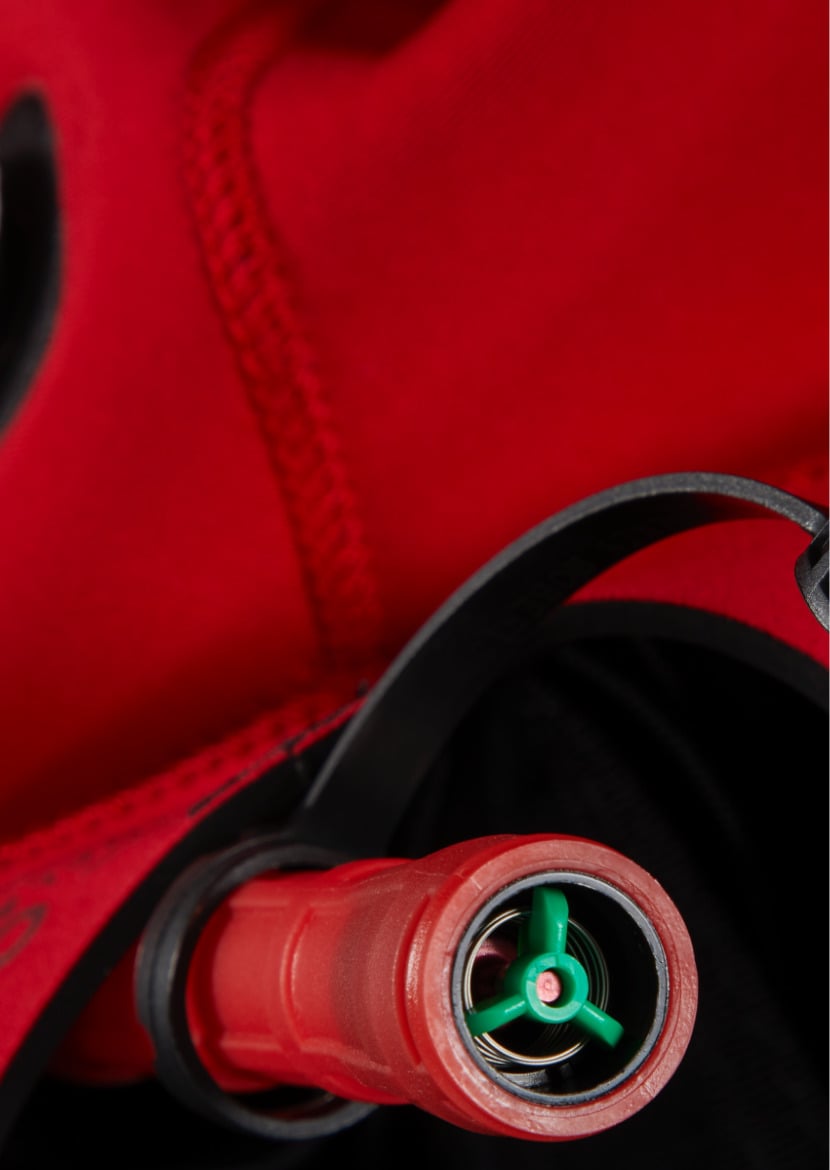 BUOYANCY BEFORE YOU PADDLE OUT
An oral inflate valve can be used for partial inflation so that you can conserve CO2 cartridges for emergency use.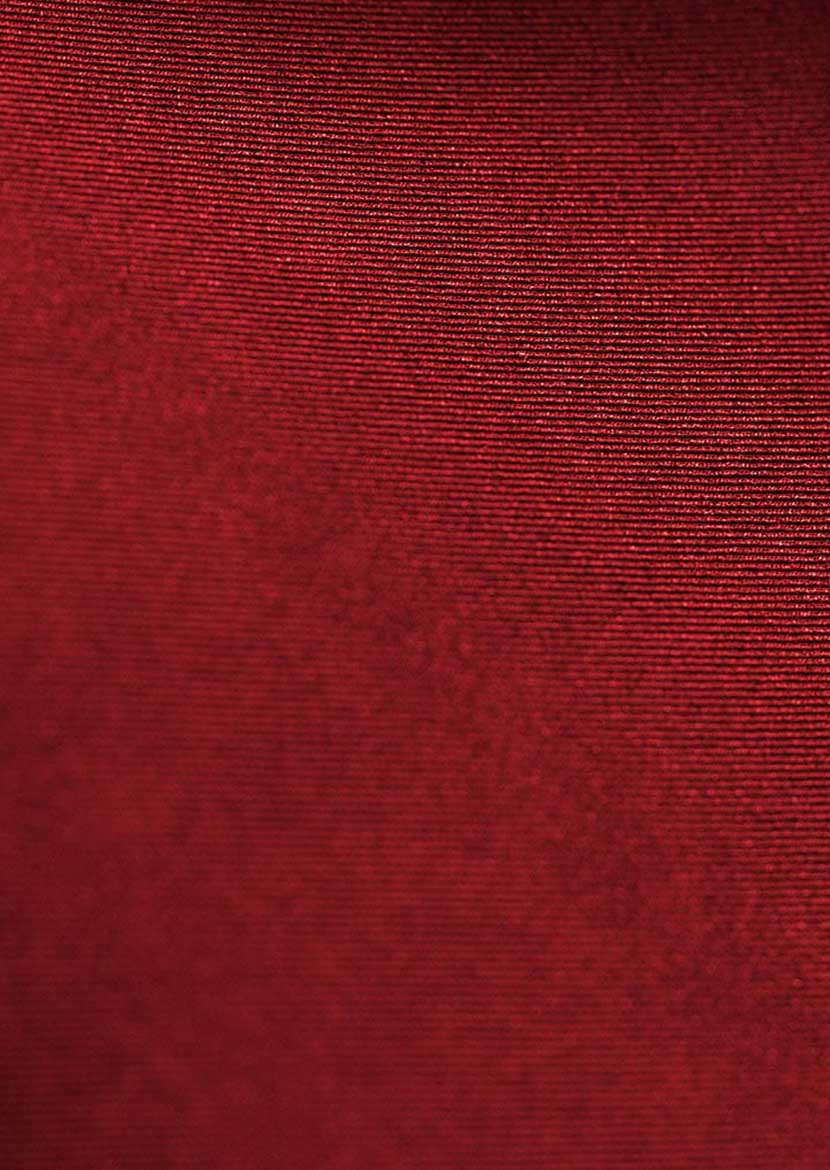 FOR ANY WAVE, ANYWHERE
The Highline Pro Airlift is made with Quiksilver's best neoprene and can be worn as a standalone vest or over the top of any wetsuit. FIND A STORE NEAR YOU
Want the vest that changed the game? The Highline Pro Airlift is available at these select stores.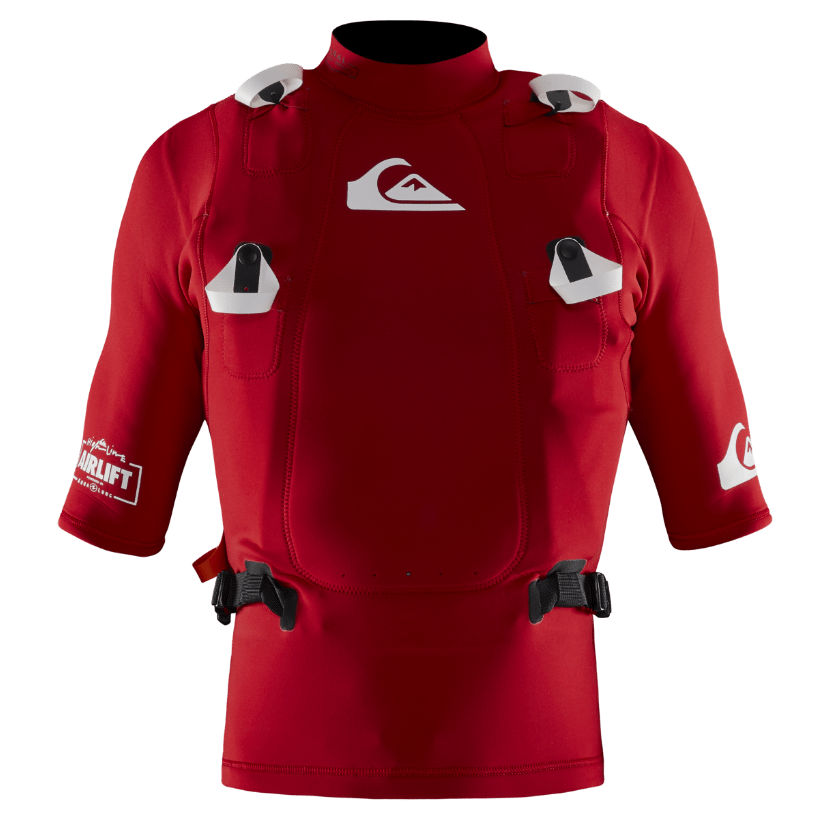 INSTRUCTION MANUAL
Every function. Every feature. Browse our instructions manual or scroll over the vest to see all the technology we put into the Airlift.
WATCH NOW
DOWNLOAD PDF
Highline pro collection
STORE LOCATOR
Looking for an authorized Quiksilver Highline Airlift vest dealer? Here is the official list where to buy the vest.


Shop List
BOARDRIDERS ST JEAN DE LUZ

ST JEAN DE LUZ, 64500 (FRANCE)
+33 5 59 51 44 00LES GETS, 74260, FRANCE


BOARDRIDERS CAPBRETON

36 BOULEVARD DU DR. JUNQUA
CAPBRETON, 40130 (FRANCE)
+ 33 5 58 41 08 97

BOARDRIDERS ERICEIRA

Avenida de Saõ Sebastião ,36A
ERICEIRA, 2655-319 (PORTUGAL)
Tel. +351 261 867 046

RAINBOW SURF SHOP

21 Avenue de la Chambre d'Amour
ANGLET, 64600 (France)
+33 5 59 03 54 67

POINT BREAK

8 Quai des Greniers
Saint-Gilles-Croix-de-Vie, 85800 (France)
+33 2 51 55 08 08

PUKAS

Calle Mayor, 5)
San Sebastián, 20003 (Spain))
+34 943 42 72 28

STYLING

Arriatera Kalea, 85
Sopelana, 48600 (Spain)
+34 946 76 70 00

TABLAS

Paseo Muro de San Lorenzo, 4
Gijon, 33202 (Spain)
+34 985 35 47 00

SURFING LIFE

R. Infante Dom Henrique Lote 4
Loja 1, Urb. Sol Vilage
2520-160 Ferrel, Peniche (Portugal)
+351 262 758 371

58 SURF SHOP

R. Infante Dom Henrique Lote 4
Loja 1, Urb. Sol Vilage
2520-160 Ferrel, Peniche (Portugal)
+351 262 758 371

NORTH SHORE BRC

66-250 Kamehameha Hwy
Haleiwa, HI 96712
+1 808-637-5026

Hi Tech Maui

425 Koloa St #107
Kahului, HI 96732
+1 808-877-2111

HIC Kailua

354 Hahani Street
Kailua, HI 96734
+1 808-266-6730

Hanalei BRC

5-5088 Kuhio HWY
Hanalei, HI 96714
+1 808-826-5594

Quiksilver Beachwalk

2181 Kalakaua Avenue
Honolulu, HI 96815
+1 808-921-2793
(product showcase)

Santa Cruz Freeline Surf Shop

821 41st Avenue
Santa Cruz, CA 95062
+1 831-476-2950

Malibu BRD (2018)

18820 Pacific Coast Hwy
Malibu, CA 90265
opening: 2018

CHANNEL ISLANDS

36 Anacapa St
Santa Barbara, CA 93101 (United States) +1 805 966 7213

SURF RIDE

1909 S Coast Hwy
Oceanside, CA 92054 (United States) +1 760 433 4020

REAL WATERSPORTS

25706 NC-12
Waves, NC 27982 (United States) +1 252 987 6000

PROOF LAB

244 Shoreline Hwy
Mill Valley, CA 94941 (United States) +1 415 380 89 00

SIMMER

99 Hana Hwy Paia
Maui 96779 (HAWAII) 808 579 84 84

BOARDRIDERS TORQUAY

1/61 Surf Coast Hwy
Torquay VIC 3228
(03) 5261 7544

BOARDRIDERS COOLANGATA

28/72 Marine Parade
Coolangatta QLD 4225
(07) 5599 5551

SLIMES SURF SYDNEY

203 Central Coast Hwy
Erina NSW 2250
(02) 4365 5511

BACKDOOR

71 Barrys Point Rd
Takapuna, Auckland 062 (New Zealand) +64 9 489 46 37

Boardriders Malibu

18820 CA-1, Malibu,
CA 90265 (310) 359-8274

Boardriders Malibu

2181 Kalakaua Ave #101, Honolulu, HI 96815 (808) 921-2793

Boardriders Malibu

5-5088 Kuhio Hwy,
Hanalei, HI 96714 (808) 826-5594
Highline Pro Airlift Vest - Big Wave Surfing Safety jacket
Quiksilver and Aqua Lung: Two companies founded by legendary watermen who have helped shape the face of modern ocean sports. Collaboration with a single mission: to create a new generation of inflatable vests that represents a major breakthrough in water safety. Our QUIKSILVER X AQUA LUNG inflatable vest is the culmination of two year's development and intense real world testing on some of the biggest waves on the planet. Welcome to the beginning of a new era of greater safety in water sports.
An inflatable vest developed by the big wave surfing elite
Our first manual inflatable vest has been developed in response to the growing demands of surfers seeking to increase personal safety in big wave, high-risk surfing environments. Featuring several improvements on existing inflatable vest technology, pre-production models of the vest have already helped save the lives of more than one big wave surfer, while at its February 2016 debut at the Quiksilver In Memory of Eddie Aikau invitational at Waimea Bay, Hawaii, the QUIKSILVER X AQUA LUNG inflatable vest ushered in a new benchmark in water safety at the iconic big wave surfing competition. Other world-class big wave spots where the vest has been successfully tested include: Todos Santos (Mexico), Mavericks (California), Peahi/Jaws (Hawaii), Makaha (Hawaii), Nazare (Portugal), Belharra (France), Cow Bombie (Western Australia), Tavarua (Fiji) and Teahupoo (Tahiti).
This inflatable vest is part of a holistic approach to ocean safety
If there is one thing we can learn from professional big wave surfing, it's that no safety strategy working in isolation will save you from drowning – an inflatable vest needs to be worn as an integral part of your overall equipment, fitness and preparation. The vest is a safety tool, not a performance enhancer. Do not take greater risks while using this vest.
Warning: this inflatable vest is not considered as life jacket and PFD in USA and AUSTRALIA
USA, Australia and non-European Union Territories: This vest is NOT a lifejacket or personal flotation device (PFD) approved or sanctioned by the U.S. Coast Guard or Transport Canada. It does NOT comply with Australian Standard AS 475:2015 for lifejackets or with other regulatory agency official requirement for flotation devices.
In European Union this Inflatable vest is considered as a PDF
European Union: This vest is a personal flotation device compliant with standard EN ISO 12402-5:2006 + A1:2010 for Buoyancy Aids (level 50), as confirmed through testing and inspection by CRITT Sports Loisirs, 21 rue Albert Einstein, 86100 CHATELLERAULT, France. Notified Body N°0501. This vest becomes a buoyancy aid ONLY after full inflation.
Warning: this inflatable vest is not meant to be used for Windsurf and Kitesurf
This vest is designed for use by experienced surfers who are strong swimmers. It is not designed for windsurfing or kitesurfing.
Read more
Read less