Skip to products grid selection
Free Shipping on US Orders Over $65
Quiksilver x Aqua Lung Highline Airlift
First, a note on safety.
The Quiksilver Highline Airlift vest is designed for use by experienced adult surfers. Using it successfully requires strong swimming skills, ocean knowledge, collaboration with other surfers and lifeguards, and like the rest of your equipment — it must be cared for and used correctly. Proper use of the vest requires adherence to manufacturer's instructions.
The Airlift vest is a safety tool, not a performance enhancer. Do not take greater risks while using this vest.
Game-changing innovation for a new generation of big wave surfing
Safety, re-imagined
A new generation of big wave riding demands a new generation of water safety. That's where the Airlift vest comes in. A culmination of years worth of research and development, the neoprene vest utilizes carbon-dioxide cartridges to help bring the wearer to the surface in heavy hold-down situations. It's an innovative product designed for innovative surfing at the world's heaviest waves.
QUIKSILVER x AQUA LUNG
When we started developing the Airlift vest, we knew it would be best to partner up with a company that would match our devotion to the project. Aqua Lung is a global leader in scuba diving equipment — they were an easy choice for the partnership.
Jamie Mitchell
2017 Nazare Challenge Champion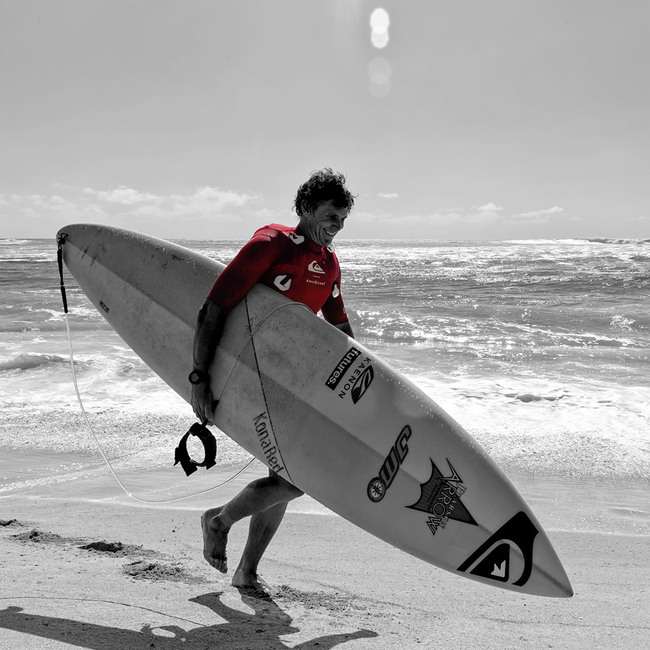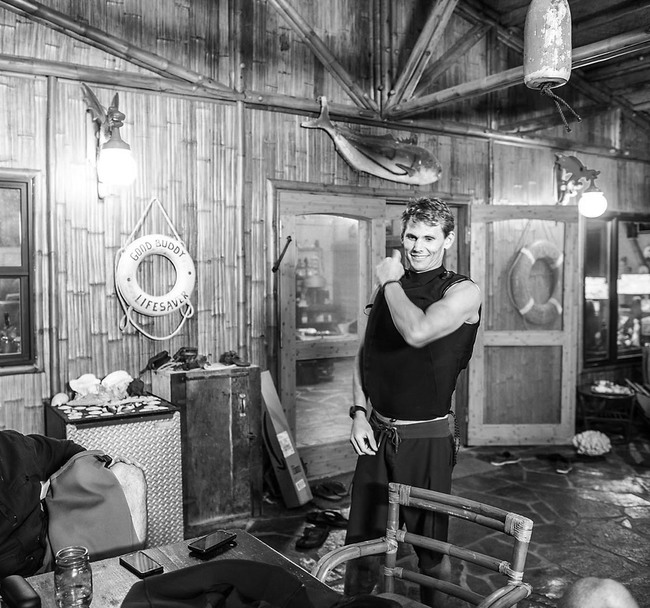 Jamie Mitchell
2017 Nazare Challenge Champion
Tom Carroll
2x Surfing World Champion
RESEARCH AND DEVELOPMENT
Late nights. Early mornings. Countless hours and numerous tests. That's what the Quiksilver Highline Airlift vest is made of — because you can't afford to take chances on a product like this. Quiksilver's big wave riders and Innovation Team spent two years collaborating with Aqua Lung engineers to make this idea come to life. Every last detail was considered, refined and innovated.
Our test team is the heart of this project. We're extremely privileged to have had a group of individuals with peerless knowledge, talent and experience to draw from during the past two years of intensive testing.
SAFETY STARTS WITH PREPARATION
We remind you that preparation doesn't just mean stretching on the beach before you paddle out. It's more than just checking the charts or getting all your gear in order during the days leading up to a swell. True preparation also means dedicating years of your life to surfing waves of consequence. But, once you're ready for it, the AirLift vest is designed to create an extra layer of safety for committed big wave surfers.
For Any Wave, Anywhere
The Airlift vest is made with Quiksilver's best neoprene and can be worn over the top of a wetsuit, or as a standalone vest. That means you stay safer at any wave, anywhere, regardless of the water temp.
Peter Mel
Big Wave World Tour Champion
4 Inflation pull tabs, 1 Deflation pull tab
The Airlift vest features four separate inflation tabs in considered locations on the chest for the ease of inflation in the hardest of times. A deflation tab is located away from the inflation tabs to reduce the risk of an accidental inflation or deflation.
Instructions manual
Every function. Every feature. Browse our instructions manual or scroll over the vest to see all the technology we put into the Airlift.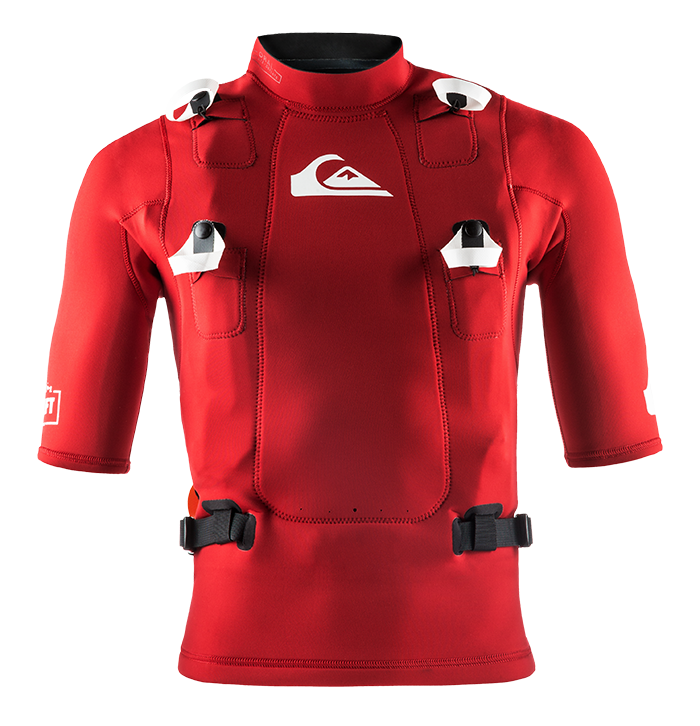 Oral inflate/deflate tube
Oral inflate valve is available for partial inflation and conserving CO2 cartridges for emergency use.
4x inflate pull tabs
In a heavy hold down situation or as desired, inflate the vest by pulling any of the four inflation tabs connected to a full CO2 canister. Help surfer to reach the surface faster and with less effort. Inflate pull tabs are located in a separate location from the deflate pull tab to eliminate accidental inflation or deflation
Torso straps
Built-in lower midsection torso strap secures the inflation vest to the surfer.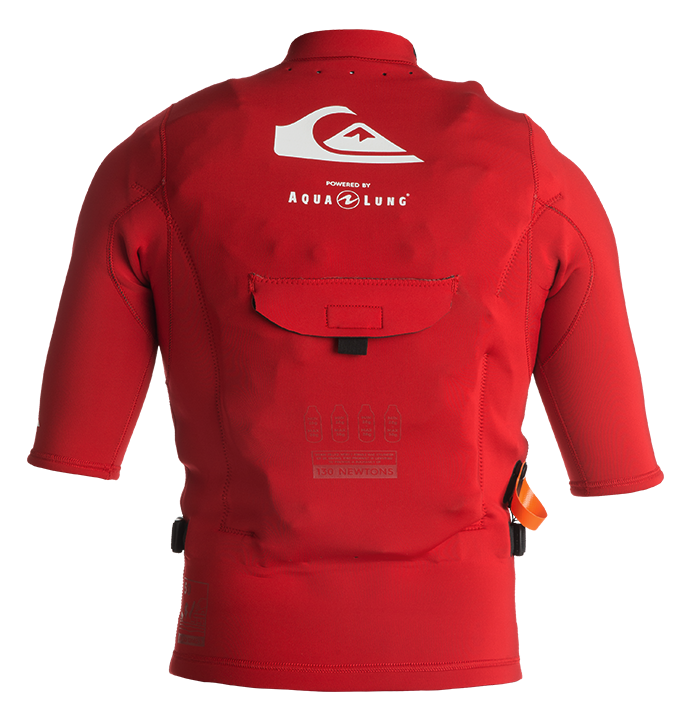 Deflate pull tab
To emergency deflate the vest. Improve safety when it is safer to go deep under the wave.
4 x CO2 Cartridges
The vest holds 4 CO2. 1 Cartridge is enough to fill the bladder. For safety reasons, we strongly recommend that you never use your AirLift vest with only one cartridge left.
Overpressure Valve – Aqua Lung's Proprietary
The Dump Valve automatically releases the excess CO2 from the bladder.
Back pocket cartridges access
Swap in fresh CO2 cartridges without removing the vest.
STORE LOCATOR
Looking for an authorized Quiksilver Highline Airlift vest dealer? Here is the official list where to buy the vest.
Liste shop
NORTH SHORE BRC

66-250 Kamehameha Hwy
Haleiwa, HI 96712
+1 808-637-5026

Hi Tech Maui

425 Koloa St #107
Kahului, HI 96732
+1 808-877-2111

HIC Kailua

354 Hahani Street
Kailua, HI 96734
+1 808-266-6730

Hanalei BRC

5-5088 Kuhio HWY
Hanalei, HI 96714
+1 808-826-5594

Quiksilver Beachwalk

2181 Kalakaua Avenue
Honolulu, HI 96815
+1 808-921-2793
(product showcase)

Santa Cruz Freeline Surf Shop

821 41st Avenue
Santa Cruz, CA 95062
+1 831-476-2950

Malibu BRD (2018)

18820 Pacific Coast Hwy
Malibu, CA 90265
opening: 2018

CHANNEL ISLANDS

36 Anacapa St
Santa Barbara, CA 93101 (United States) +1 805 966 7213

SURF RIDE

1909 S Coast Hwy
Oceanside, CA 92054 (United States) +1 760 433 4020

REAL WATERSPORTS

25706 NC-12
Waves, NC 27982 (United States) +1 252 987 6000

PROOF LAB

244 Shoreline Hwy
Mill Valley, CA 94941 (United States) +1 415 380 89 00

SIMMER

99 Hana Hwy Paia
Maui 96779 (HAWAII) 808 579 84 84

BOARDRIDERS ST JEAN DE LUZ

162 RUE BELHARRA
ST JEAN DE LUZ, 64500 (FRANCE)
+33 5 59 51 44 00

BOARDRIDERS CAPBRETON

36 BOULEVARD DU DR. JUNQUA
CAPBRETON, 40130 (FRANCE)
+ 33 5 58 41 08 97

BOARDRIDERS ERICEIRA

Avenida de Saõ Sebastião ,36A
ERICEIRA, 2655-319 (PORTUGAL)
Tel. +351 261 867 046

RAINBOW SURF SHOP

21 Avenue de la Chambre d'Amour
ANGLET, 64600 (France)
+33 5 59 03 54 67

POINT BREAK

8 Quai des Greniers
Saint-Gilles-Croix-de-Vie, 85800 (France)
+33 2 51 55 08 08

PUKAS

Calle Mayor, 5)
San Sebastián, 20003 (Spain))
+34 943 42 72 28

STYLING

Arriatera Kalea, 85
Sopelana, 48600 (Spain)
+34 946 76 70 00

TABLAS

Paseo Muro de San Lorenzo, 4
Gijon, 33202 (Spain)
+34 985 35 47 00

SURFING LIFE

2 Fore Street
Newquay, Cornwall (United Kingdom)
+16 37 85 94 00

58 SURF SHOP

R. Infante Dom Henrique Lote 4
Loja 1, Urb. Sol Vilage
2520-160 Ferrel, Peniche (Portugal)
+351 262 758 371

BOARDRIDERS TORQUAY

1/61 Surf Coast Hwy
Torquay VIC 3228
(03) 5261 7544

BOARDRIDERS COOLANGATA

28/72 Marine Parade
Coolangatta QLD 4225
(07) 5599 5551

SLIMES SURF SYDNEY

203 Central Coast Hwy
Erina NSW 2250
(02) 4365 5511

STAR SURF WA

20 Mandurah Terrace
Mandurah WA 6210
(08) 9535 4500

BACKDOOR

71 Barrys Point Rd
Takapuna, Auckland 062 (New Zealand) +64 9 489 46 37
NEWS ROOM
Are you a journalist or blogger? Click here to download full press kit including press release, packshots, lifestyle shots and videos.
Highline Pro Airlift Vest - Big Wave Surfing Safety jacket
Quiksilver and Aqua Lung: Two companies founded by legendary watermen who have helped shape the face of modern ocean sports. Collaboration with a single mission: to create a new generation of inflatable vests that represents a major breakthrough in water safety. Our QUIKSILVER X AQUA LUNG inflatable vest is the culmination of two year's development and intense real world testing on some of the biggest waves on the planet. Welcome to the beginning of a new era of greater safety in water sports.
An inflatable vest developed by the big wave surfing elite
Our first manual inflatable vest has been developed in response to the growing demands of surfers seeking to increase personal safety in big wave, high-risk surfing environments. Featuring several improvements on existing inflatable vest technology, pre-production models of the vest have already helped save the lives of more than one big wave surfer, while at its February 2016 debut at the Quiksilver In Memory of Eddie Aikau invitational at Waimea Bay, Hawaii, the QUIKSILVER X AQUA LUNG inflatable vest ushered in a new benchmark in water safety at the iconic big wave surfing competition. Other world-class big wave spots where the vest has been successfully tested include: Todos Santos (Mexico), Mavericks (California), Peahi/Jaws (Hawaii), Makaha (Hawaii), Nazare (Portugal), Belharra (France), Cow Bombie (Western Australia), Tavarua (Fiji) and Teahupoo (Tahiti).
This inflatable vest is part of a holistic approach to ocean safety
If there is one thing we can learn from professional big wave surfing, it's that no safety strategy working in isolation will save you from drowning – an inflatable vest needs to be worn as an integral part of your overall equipment, fitness and preparation. The vest is a safety tool, not a performance enhancer. Do not take greater risks while using this vest.
Warning: this inflatable vest is not considered as life jacket and PFD in USA and AUSTRALIA
USA, Australia and non-European Union Territories: This vest is NOT a lifejacket or personal flotation device (PFD) approved or sanctioned by the U.S. Coast Guard or Transport Canada. It does NOT comply with Australian Standard AS 475:2015 for lifejackets or with other regulatory agency official requirement for flotation devices.
In European Union this Inflatable vest is considered as a PDF
European Union: This vest is a personal flotation device compliant with standard EN ISO 12402-5:2006 + A1:2010 for Buoyancy Aids (level 50), as confirmed through testing and inspection by CRITT Sports Loisirs, 21 rue Albert Einstein, 86100 CHATELLERAULT, France. Notified Body N°0501. This vest becomes a buoyancy aid ONLY after full inflation.
Warning: this inflatable vest is not meant to be used for Windsurf and Kitesurf
This vest is designed for use by experienced surfers who are strong swimmers. It is not designed for windsurfing or kitesurfing.