Skip to Product Information
Free Shipping On Orders Over $29
Product Info
AG47 Performance 5/4/3mm Chest Zip Hooded Fullsuit
AQYW203011
Description
AG47 Performance 5/4/3mm Chest Zip Hooded Fullsuit
AQYW203011
Specifications
The nuts and bolts
Model: AG47 performance steamer


Fit: Fullsuit

Entry: chest zip

Thickness: 5/4/3mm

F'N Lite neoprene: is packed with air cells for lightest of lightweight warmth

Dry Flight far infrared heat technology thermal lining retains body heat by conducting it back into the lining

Red Seal Seam is a thin, ultra-light & flexible seam sealant that gives water tight reinforcement

Thermal Smoothie Neoprene: Wind & water repellent to keep you warmer

Hydrolock seam seal system for thinner, lighter & more flexible seams, sealed with liquid tape to prevent leaks

Water-Block Semi Dry Zip: Featuring coated, off-set teeth to create a watertight seal that minimizes zip flush

Flush Lock 2.0 Seals: Helps prevent flushing through the wrists and ankles

Fused Edge: Beveled edges on the neck, wrists and ankles create a seal so water flushes over and not into the suit

Ecto-Flex Knee pads: Durable, lightweight and flexible outer knee pads that protect you and your board

Glideskin Neck Seal: Ultra smooth neoprene liner for superior comfort along with a watertight seal

Internal key pocket that keeps your keys safe and sound

Suitable for water temperatures of 8 - 13°C/46 - 55°F

This is a guide only: Weather, sensitivity to the cold and conditions at your local break will affect temperatures & choice of equipment
Size Chart
Men's Wetsuits

| | Height | Weight (lbs) | Chest | Waist | Hips | Neck | Inseam |
| --- | --- | --- | --- | --- | --- | --- | --- |
| XS | 5'6"-5'8" | 125-140 | 34"-36" | 27"-29" | 33"-35" | 14.5" | 26.5"-27.5" |
| S | 5'7 1/2"-5'9 1/2" | 135-155 | 36"-38" | 29"-31" | 34"-36" | 15" | 27.5"-28.5" |
| ST | 5'9"-5'11" | 140-160 | 36"-38" | 29"-31" | 34"-36" | 15" | 28.5"-29.5" |
| MS | 5'7 1/2"-5'9 1/2" | 140-160 | 38"-40" | 31"-33" | 35"-37" | 15.5" | 27.5"-28.5" |
| M | 5'9"-5'11" | 150-170 | 38"-40" | 31"-33" | 35"-37" | 15.5" | 28.5"-29.5" |
| MT | 5'11"-6'1" | 155-175 | 38"-40" | 31"-33" | 35"-37" | 15.5" | 29.5"-30.5" |
| LS | 5'9"-5'11" | 165-185 | 40"-42" | 33"-35" | 37"-39" | 16" | 28.5"-29.5" |
| L | 5'11"-6'1" | 170-190 | 40"-42" | 33"-35" | 37"-39" | 16" | 29.5"-30.5" |
| LT | 6'0"-6'2" | 180-200 | 40"-42" | 33"-35" | 37"-39" | 16" | 30.5"-31.5" |
| XLS | 5'8 1/2"-5'10 1/2" | 180-200 | 42.5"-44.5" | 34.5"-36.5" | 39"-41" | 16.5" | 29.5"-30.5" |
| XL | 6'0"-6'2" | 190-200 | 42"-44" | 35"-37" | 39"-41" | 16.5" | 30.5"-31.5" |
| XLT | 6'2"-6'4" 6'2"-6'4" | 200-220 | 42"-44" | 35"-37" | 39"-41" | 16.5" | 31"-32" |
| XXL | 6'0"-6'2" | 210-230 | 44"-48" | 37"-39" | 41"-43" | 17" | 31"-32" |
| XXXL | 6'0"-6'2" | 220-240 | 46"-48" | 39"-41" | 44"-46" | 17.5" | 31"-32" |
Composition
Shipping & Returns
Shipping
Free Shipping On Orders Over $29
Click here for our entire shipping policy and rates
Returns
Click here for our entire return policy
Share This Product
Skip to Product Information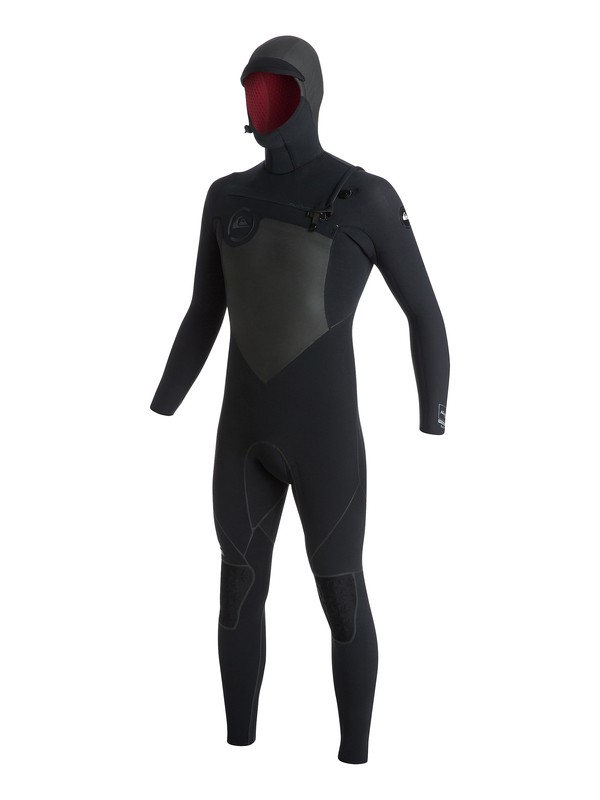 Add a Review
Broken zipper 4th time out!
I bought this suit just a few months ago and have surfed in it about 4 times and was very stoked on the fit and flexibility. Last weekend I drove seven hours for a surfing weekend in Washington State. I went to put on my suit and low and behold, as I went to zip it up the zipper popped a tooth and separated the two sides. After much struggling to get the two sides together (older zippers are metal so you can separate the zip then clamp down around the teeth - not so with newer zippers since they're plastic. Needless to say, I was super bummed. I had the foresight to bring my backup suit (O'neill Epic 4/3) which is 17 years old!). I did get to surf all weekend in my older suit, but I could've remained in the water much longer in the 5/4/3.
Dballz
Pacific Northwest
Sick Wetsuit for East Coast Canada
Used it for kite surf and stand up paddle board up to now, super comfy, was debating on a attached hood and non-attached. SUPER PUMPED on the AG47 attached hood systeme, when im not wearing the hood and have it on my neck I have no tension and it feel like a turtle neck super comfy. Didnt had the chance in going in super cold temp but will post again.
TKALLAIN
EAST COAST CANADA
LIGHTER AND JUST AS FLEXIBLE AS MY 4/3
I bought this suit for super cold winter days and couldn't be more satisfied with the longer sessions I've been able to have. It seems overkill having a 5/4/3 for water temps between 55-43 degrees, but I swear it's totally worth it when those air temps are below 50 degrees and the wind is whipping. This suit fits perfect to size with my other suits from different brands and is easily just as light as my XCEL Drylock 4/3. I would say the biggest perk of this suit is the thicker neoprene that helps cut the windchill and having the attached hood that is significantly more flexible than a detached hood I've used in the past and plenty more comfortable. I can now have a 3 hour sessions when nobody else wants to brave the cold. Don't kid yourself thinking that 4/3 is going to get you through the cold winter sessions! If the water temps are below 55 and the air is cold, you can rock this suit and surf like you are wearing a 3/2.
The Don of Yaupon
Wrightsville Beach, NC
Excited to Test, Great Customer Service
About 14 months ago, I bought the previous iteration of this suit -- the 5/4/3 Hooded Cypher. The FN Lite Neoprene is plush. It feels stretchy, light, warm, and dries quickly (one and half to two days hanging on my balcony out of the sun). The fuzzy purple fleece material on the inside is comfy and I have found that it helps me slip into the suit easier. It also is the first to thing that dries on the suit. The drawstrings on the hood and the chest panel can be pulled tight and don't slip, so that no to very little water flushes the suit. The fatty chest zip feels super sturdy and never snags or catches. The key loop is thoughtfully placed in the chest panel and I never feel my key when I paddle out. Thus, this positive experience I have had with the Cypher compelled me to purchase the AG47 5/4/3 Hooded. Fit wise - I own a small - it is perfect for my build. I am 5'7" and 145lbs. My new AG47 fits the same. Experience with, and wear and tear on my Cypher 5/4/3 - The Cypher is solidly built. After a year plus of use, it is still toasty and I don't have any leaks. I have, though, gotten cold in this suit near the three hour mark on mid-40 degree days. In particular, it becomes cold around my lower back/kidneys. Perhaps the shivers are inevitable with the lost of calories and fatigue but I think the new AG47 5/4/3 mitigates this problem by adding fuzzy red fleece through most of the suit, including the lower back and legs. The AG47 also has smoothy material on the hoodie, chest and back panels. As for wear and tear on the Cypher 5/4/3, I had two spots that needed attention by month 11. A micro separation (that did not go all the way through the suit because of the blind stitching and neoprene tape on the inside) appeared on the outside of my Cypher near the hood and the chest panel. One end of my zipper, also, began to separate from the suit. Thankfully, Quicksilver's customer service/wetsuit repair guru, J.N., took care of my suit with speed and professionalism. He replied to my emails promptly, educated me on the shipping (I dropped the suit off at HQ and he mailed it back to me) and the repair process, and kept me posted on the status of my suit. When I got the suit back (about 1-2 weeks), it looked new. Quicksilver glued down the micro separation and resewed the zipper. I am impressed. In short, my suit, the 5/4/3 Cypher, feels like I am putting on a layer of synthetic blubber (a good thing) that I know is going to insulate me from the cold waters and colder wind of my home break. Quicksilver's customer service is stellar, and, last, I am looking forward to testing my new AG47 5/4/3.
Joe
Oakland, Ca.
A note about sizing: Wetsuits size differently and it's important to pay attention to the sizing guide on the Quiksilver website. I'm an XL in the chest and a L everywhere else, no way for me to get into a chest zip in a L suit so it's XL for me - gives me a lot less weight/resistance in my arms and shoulders (paddling a SUP in a 5/4 can be a pain and this suit is definitely stretchier than my old 4/3. Hood is snug and comfortable, knee pads feel cushy and strong, seals at ankles and wrists look like they'll do the job. Not sure how warm it is (hasn't been that cold in the NE USA as of this writing) but the suit looks and feels great - super easy to get in and out (get the right size). Great job Quiksilver!
LBNY
Long Island NY
First chest zip suit, I'm between a L and XL (chest/shoulders on the XL size) and ordered an XL. Easy to get in and out. Feels incredibly light and flexible for a 5/4 (based on a cheaper 2013 suit that is my reference). We'll see how it holds up when the water temps get below 40 (it's still 'warm' in the North East as of this writing). Suit looks great, feels great, stoked and really happy with the purchase.
LBNY
Long Beach NY
This suit is great for cold waters. I am always very warm whenever i paddle out and use it everyday. Its a comfortable fit and is flexible.
Bill
Humboldt county, CA
If you are surfing cold water between 52-43 degrees you will stay warm in this suit! It is a little bulky but it is because its thick. It is thick but it is also stretchy which is awesome in a thicker suit. I live in the NW and I have surfed 5/4's from most brands but Quick is still my favorite. Nice work Quicksilver
Brewski
Portland, OR
Great suit, warm and great fit. We'll see how the liner goes. Right now it is a bit itchy.
jaredc
Ashland, OR
AG47 Performance 5/4/3mm Chest Zip Hooded Fullsuit
100.0
Customer Service
Do you have something you'd like to share with us, or a question that calls for our attention? Call or chat with one of our representatives.

1-800-435-9917
7AM – 5PM PST (Monday-Friday)

*Excluding US Holidays
FAQ
Get immediate answers to our most frequently asked questions.