Quiksilver x Aqua Lung Highline Airlift
Performance safety
Game-changing innovation for a new generation of big wave surfing
Safety, re-imagined
A new generation of big wave riding demands a new generation of water safety. That's where the Quiksilver Highline Airlift comes in. A culmination of years worth of research and development, the neoprene vest utilizes carbon-dioxide cartridges to bring the wearer to the surface in heavy hold-down situations. It's an innovative product designed for innovative surfing at the world's heaviest waves.
QUIKSILVER x AQUA LUNG
Aqua Lung is the undisputed global leader in scuba diving equipment. When we decided to develop an inflatable safety vest for big wave surfing, they were an easy choice for partnership.
Jamie Mitchell
2017 Nazare Challenge Champion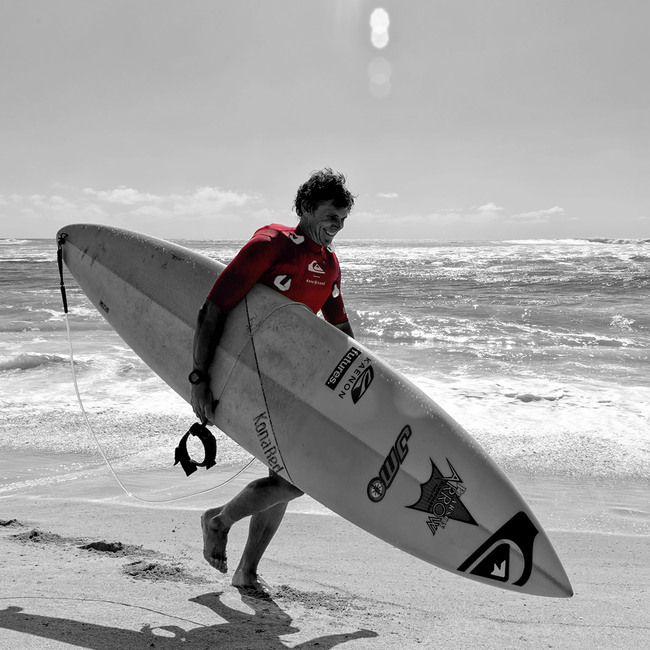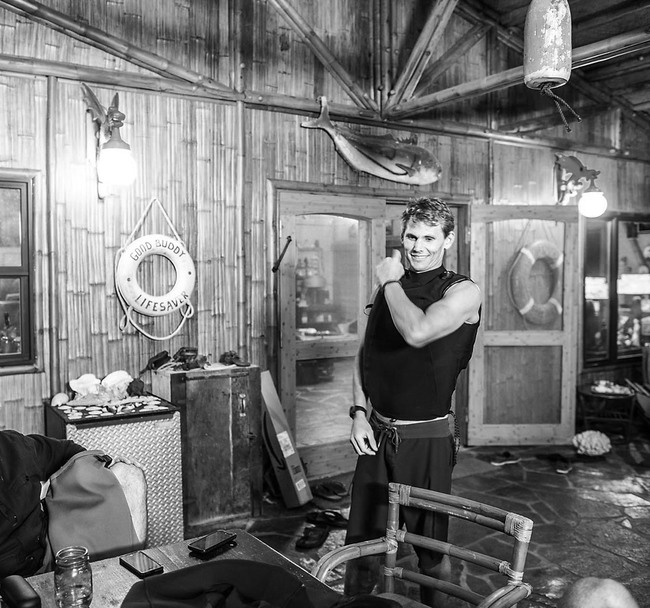 Jamie Mitchell
2017 Nazare Challenge Champion

Koa Rothman
2017 Wave of the Winter
Tom Carroll
2x Surfing World Champion
RESEARCH AND DEVELOPMENT
Late nights. Early mornings. Countless hours and an absurd amount of tests. That's what the Highline Airlift is made of — because you can't afford to take chances on a product like this. Quiksilver's big wave riders and Innovation Team spent two years collaborating with Aqua Lung engineers to make this idea come to life. Every last detail was considered, refined and innovated.
Our test team is the heart of this project. We're extremely privileged to have had a group of individuals with peerless knowledge, talent and experience to draw from during the past two years of intensive testing.
SAFETY STARTS WITH PREPARATION
Preparation doesn't mean stretching on the beach before you paddle out. It doesn't mean checking the charts or getting all your stuff together the days leading up to a swell. True preparation means dedicating years of your life to surfing waves of consequence. But, once you're ready for it, Quiksilver's Airlift has your back. It's designed to keep committed big wave riders safe in the conditions that they live for.
For Any Wave, Anywhere
The Airlift is made with Quiksilver's best-in-class Highline neoprene and can be worn over the top of any wetsuit, or as a standalone vest. That means you stay safe at any wave, anywhere, regardless of the water temp.
Peter Mel
Big Wave World Tour Champion
Jamie Mitchell
2017 Nazare Challenge Champion
4 Inflation pull tabs, 1 Deflation pull tab
The Airlift features four separate inflation tabs in considered locations on the chest for the ease of inflation in the hardest of times. A deflation tab is located away from the inflation tabs to reduce the risk of an accidental inflation.
Oral Inflation
The vest features an oral inflation valve so that you can partially inflate the bladder and save CO2 activation for emergency use. This creates a pocket of floatation while your paddling and maneuverability remain unaffected.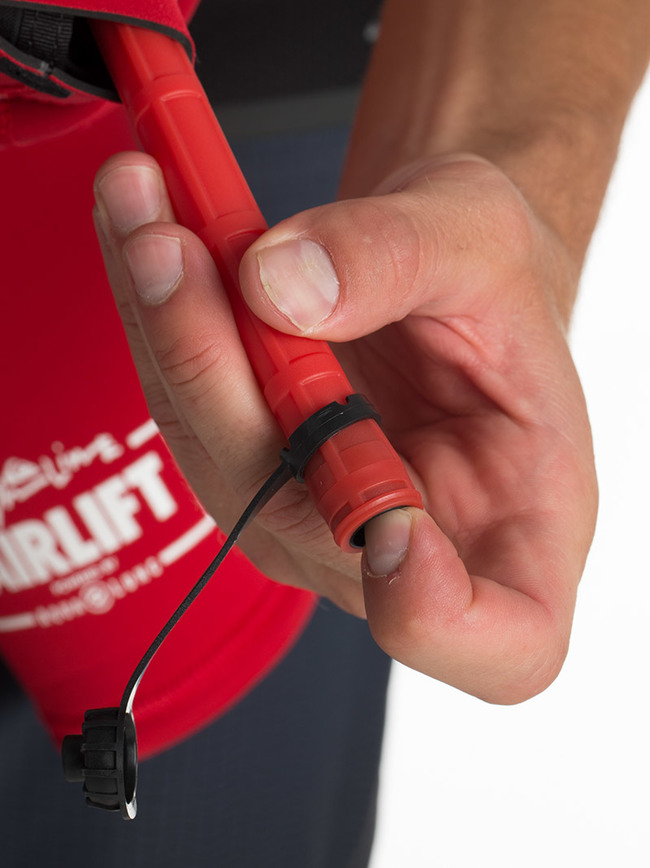 Koa Rothman
2017 Wave of the Winter
Tech Features
The Highline Airlift can be worn over the top of any wetsuit or as a standalone vest. You can wear it any wave, anywhere, regardless of the water temperature.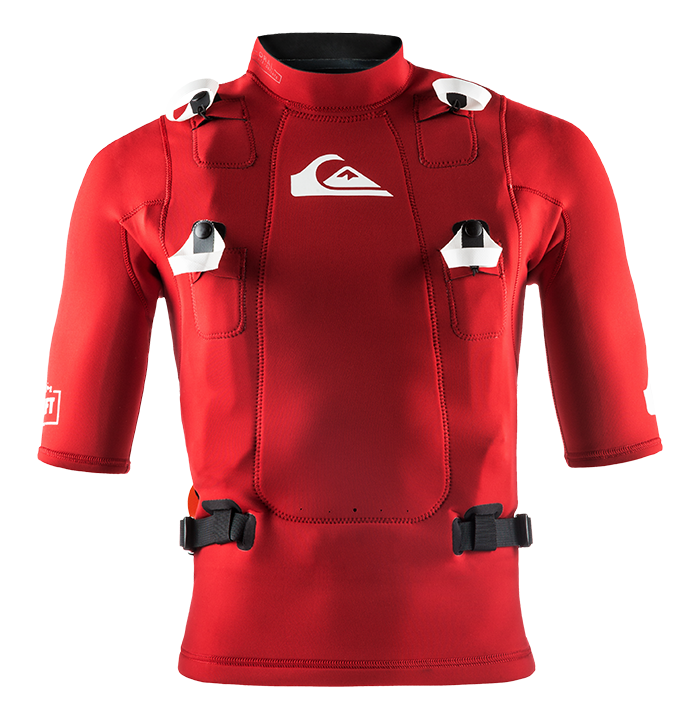 Oral inflate/deflate tube
Oral inflate valve is available for partial inflation and conserving CO2 cartridges for emergency use. Windsurf / kitesurf benefits: Increase buoyancy and help for water starts.
4x inflate pull tabs
Inflate the vest in an emergency. Help surfer to reach the surface faster and with less effort. Inflate pull tabs are located in a separate location from the deflate pull tab to eliminate accidental inflation or deflation
Torso straps
Built-in lower midsection torso strap secures the inflation vest to the surfer.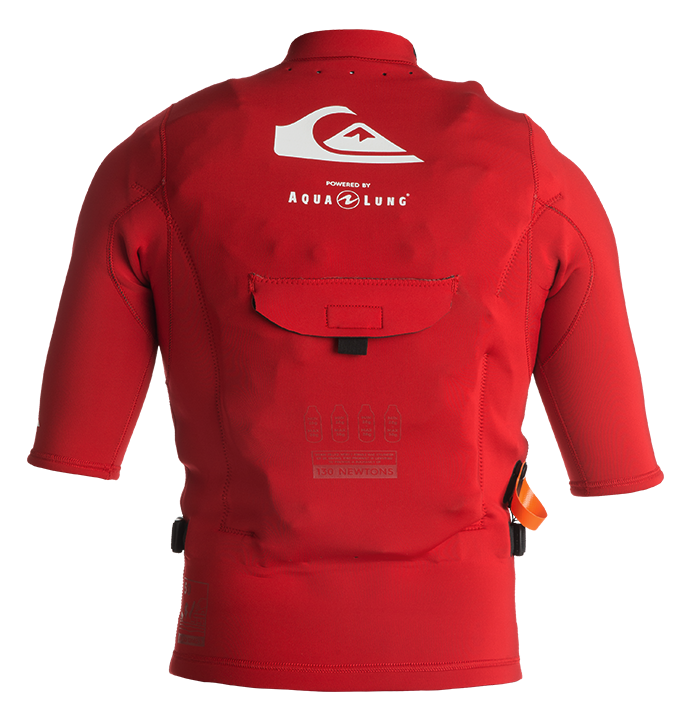 Deflate pull tab
To emergency deflate the vest. Improve safety when it is safer to go deep under the wave.
4 x CO2 Cartridges
1 x Cartridge is enough to fill the bladder.
OP Valve - Aqua Lung proprietary Overpressure
Opv has a maximum trigger of 2 PSI, after which it dumps excess air to prevent the bladder damaging.
Back pocket cartridges access
Swap in fresh CO2 cartridges without removing the vest.
Sign up
Quiksilver x Aqua Lung Highline Airlift will be available in October 2017. Sign up now to be the first to know about the release
Thank you for signing up !
Airlift Vest - The Best Inflatable Life Jacket &PFD
Quiksilver and Aqua Lung: Two companies founded by legendary watermen who have helped shape the face of modern ocean sports. Collaboration with a single mission: to create a new generation of inflatable life vests that represents a major breakthrough in water safety. Now in its final testing stages, the first edition of our QUIKSILVER X AQUA LUNG inflatable life jacket is the culmination of two year's development and intense real world testing on some of the biggest waves on the planet. Welcome to the beginning of a new era of safety in water sports.
A life Jacket developed by the big wave surfing elite
Our first manual inflatable life vest has been developed in response to the growing demands of surfers seeking to increase personal safety in big wave, high-risk surfing environments. Featuring several improvements on existing inflatable life jacket technology, pre-production models of the vest have already helped save the lives of more than one big wave surfer, while at its February 2016 debut at the Quiksilver In Memory of Eddie Aikau invitational at Waimea Bay, Hawaii, the QUIKSILVER X AQUA LUNG life jacket ushered in a new benchmark in water safety at the iconic big wave surfing competition. Other world-class big wave spots where the vest has been successfully tested include: Todos Santos (Mexico), Mavericks (California), Peahi/Jaws (Hawaii), Makaha (Hawaii), Nazare (Portugal), Belharra (France), Cow Bombie (Western Australia), Tavarua (Fiji) and Teahupoo (Tahiti).
How does the inflatable life jacket work?
Developed in collaboration with Aqua Lung, the global leader in professional and recreational scuba diving equipment, our first edition of the QUIKSILVER X AQUA LUNG inflatable life vest is the culmination of two year's research and development, and represents the cutting edge of big wave surfing safety technology. Worn over the top of any type of wetsuit or as a standalone vest, this next-generation user-deployed PFD (Personal Flotation Device) is a reinforced neoprene self-inflating life vest designed to rapidly and safely lift the wearer to the surface in a heavy hold-down situation.
Not just a life vest for big wave surfers
While this technology was created to meet the demands of athletes seeking greater safety in high-risk surfing environments, the benefits are applicable to anybody who wishes to enhance their security in the water. In fact, legendary windsurfer/kitesurfer Robby Naish has already field-tested the vest at Peahi, Hawaii, approving of its harness-friendly design. So, just as F1 safety innovations trickle down to production cars, we believe the technology currently being developed will trickle down from elite paddle-in and tow-in big wave surfers, SUP paddle boarders and long distance swimmers all the way through to beginner surfers and recreational swimmers.
This inflatable life jacket is part of a holistic approach to ocean safety
If there is one thing we can learn from professional big wave surfing, it's that no safety strategy working in isolation will save you from drowning – a life vest needs to be worn as an integral part of your overall equipment, fitness and preparation. But, will the popularisation of inflatable safety vests and PFD's in surfing lead to inexperienced surfers getting, literally, out of their depth? Not according to Peyo Lizarazu, big wave surfer and head of Research & Innovation at Quiksilver: "This isn't about encouraging people to take bigger risks: you don't automatically drive more recklessly when you strap on a seatbelt. It's about minimizing the risks we take every time we put ourselves into an inherently dangerous environment like the ocean. And that means taking all the necessary steps to stay safe, from training and developing your swimming skills and fitness, to practicing with and thoroughly understanding your equipment."